Yesterday I tried to make sure I was on the right side of the top 15 cut-off, no matter what heat I ended up in... all I could think of when I hit the road to punch the last control and run down the finish chute was that I did not want to end up on the wrong side by 16 seconds again. This resulted in some 'lovely' finish chute pictures, which I will not post here ;). Instead here is a picture of me approaching control number 6: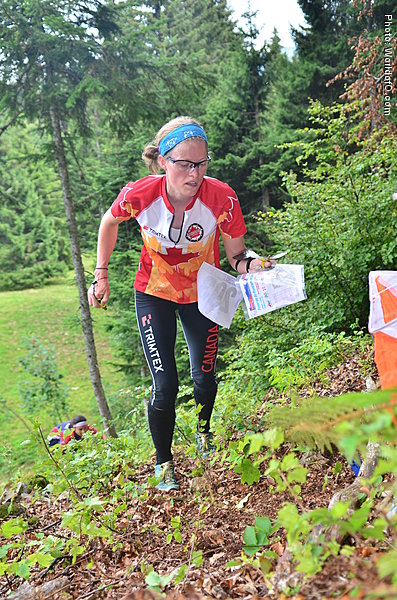 Quasi race/route description:
I started in the last set of three, with only one German girl two minutes behind. I had a good first two controls (some hesitation leaving the trail to the 1st), and read ahead to have some idea what to do on the longer legs when I came out to the trail to go around to control 3. I hesitated once in the woods near 3 when I suddenly found myself in an area with several other women (it was a forked control for the different heats but all three controls were near each other). I then went the right direction to the next control, but misread the contours in the circle and botched the attack. By then I was running with Niamh from the Irish team and a Serbian. I took the route along the smaller trail slightly to the left of the line towards 5. Niamh went right in the last depression, but the Serbian stayed with me. I got to the control slightly before the others. After that it was out to the clearing and crawling up the hill to 6, where a several photographers were positioned. I took the straighter route hopping from small trail to trail towards control 8; I had wondered if it was better to go north to the trail when initially looking at the leg but opted for the more aggressive route.