After running seven qualifiers in previous years, I qualified for my first WOC final yesterday! I was cautiously optimistic about my chances this year. I definitely felt I was best prepared this year, especially after living in France and having a chance to experience the terrain ahead of time. At the same time, I was really, really nervous before starting yesterday. But my training, the motivation from my nervousness and a bit of luck all came together yesterday and I finished in 14th position in my heat!
The start at WOC is absolutely calm. When the start official took his hand off my shoulder, I just tried to focus on Magnus's parting advice to pay attention to my compass all the time. The start of our course was in the meadows and quite easy, which helped me get into the feeling of racing. Then came the long route choice. I made a very poor choice here but fortunately it wasn't fatal and I learned what not to do in the final!
From control five on we were in the tricky French forests we've been hearing so much about. I was a little scared of the sidehill legs but being cautious paid off here and I made it safely through the forest controls. Here's a photo of me dashing out of the forests towards the finish.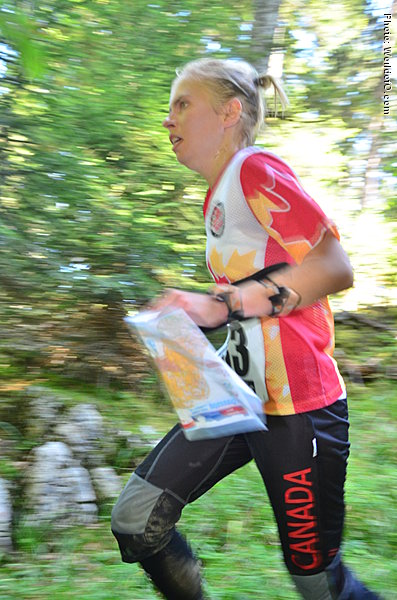 The wait at the end was so agonizing as I had no idea if it was good enough. I told my boyfriend I was going to cry no matter what happened! But I made it and I feel so elated and relieved at the same time. The only bad part is that Louise just missed out after such a great run.
Now it's time for to get ready for the middle qualification. The long final will be held on Wednesday, August 17th. You'll be able to follow my little gps dot from the
WOC website
. Thanks for following along and cheering for us!